The Early Years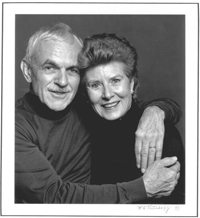 As a team, Fred and Barbara Erb shared strong interests in the environment, the arts, good business leadership, and providing a healthy future for all.
As the Erb lumber business succeeded, the family's commitment to their community deepened. The Erbs became known for their generous gifts and for challenging and motivating philanthropy by other people.
Their early gifts supported a range of institutions including their church, public television and radio, the Detroit Institute of Arts, the Detroit Zoo and the Cranbrook Educational Community.
Barbara and Fred's first major gift in 1951 helped establish a camp for troubled children in northern Oakland County, Michigan. Fred pledged an amount equal to his annual income, and he and Barbara then challenged their family, friends and associates to give as well. They personally raised gifts totaling more than four times their $5,000 pledge, and the process of encouraging philanthropy in others became a hallmark of their giving.
Even with his employees, Fred, one of the earliest supporters of the United Way, was known for getting 100% support from his employees.
During the early years of their marriage, Barbara, who at one point had four young children under the age of six, developed her own personal philanthropy, volunteering through the Junior League and YMCA of Birmingham and the Detroit Institute of Arts. After the children were grown, she took on board roles with the Music Hall Center for the Performing Arts in Detroit and the Michigan Art Train, and membership in the Women's Committee of the Cranbrook Academy of Art and the local chapter of the National Farm and Garden Club.
Developing a Vision for Sustainability: The Frederick A. and Barbara M. Erb Institute for Global Sustainable Enterprise at the University of Michigan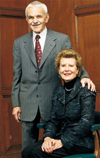 Before selling his successful company in the early 1990s, Fred and Barbara began to look at giving in a new light.
As Fred reflected on how to bring together the entrepreneurial spirit of business with his and Barbara's concern for helping the world's most critical problems, he turned to his alma mater, the University of Michigan in Ann Arbor. Fred, however, was not interested in simply signing a check to the university's business school. He and Barbara had a larger vision that became the foundation of a pioneering university program.
In 1996, the Frederick A. and Barbara M. Erb Institute for Global Sustainable Enterprise was created, a joint venture between the U of M Ross School of Business and the School of Natural Resources and Environment. The Erb gift, eventually totaling $20 million, represented the largest known commitment to a university for interdisciplinary teaching and research in the area of global sustainable enterprise – a field that explores how organizations throughout the world can achieve long-term success by harmonizing economic, environmental and social interests.
"If we can raise the next generation of business leaders to think about environmental protection as an essential long-term investment, and not a cost to be avoided, we will have taken a major step forward" said Fred, quick to add that it is equally important for environmentalists to understand that enterprises need to be profitable in order to thrive.
Supporting the Arts: Fred's Love of Jazz
Fred brought his creative philanthropy to another long-term passion of his – jazz. Having spent years supporting the Marian McPartland Piano Jazz program through National Public Radio, in 2002, the Erbs endowed the Fred A. and Barbara M. Erb Jazz Creative Director Chair at the Detroit Symphony Orchestra (DSO), the first large gift at the DSO recognizing the importance of jazz.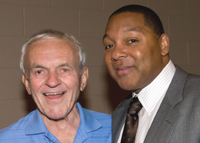 Barbara remembered going with Fred to listen to jazz at Baker's Keyboard Lounge in Detroit and to Detroit's Paradise Valley, a rare place in 1940s and 50s America where a desegregated audience could listen to jazz together. Later, while Fred was in a basic training camp in Aberdeen, Maryland, he would take the three-hour train ride to New York City every Friday to hear live jazz. The USO would find him a room and he would head up to 53rd Street lined with about 20 jazz clubs in a two-block area. He heard many jazz greats including Art Tatum, Billie Holiday, and one of his favorites, the sax player Sidney Bechet.
Years later Fred heard a remarkable high school trumpet player named Wynton Marsalis. So impressed, Fred went up and talked to the young man. In 2008, he met Marsalis again when the now-famous trumpeter and composer became the Erb Jazz Chair which includes performing in the DSO's Paradise Jazz Series and conducting workshops for Detroit-area students.
Institutionalizing their Philanthropy: The Creation of the Erb Family Foundation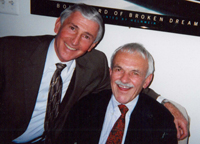 Fred and Barbara established the Erb Family Foundation in 2007. Through an interactive process, the family began to survey the landscape of issues and ideas important to them. They pinpointed areas where they saw an opportunity to make a difference – not just by addressing need, but through systemic change. The family quickly gravitated toward issues addressing the environment, the arts, and certain special projects.