The Erb Lumber Company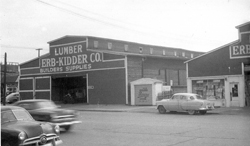 The day after graduating from college, Frederick (Fred) Erb went to work for his uncle at Erb Lumber. That same day his uncle said he was quitting and told young Fred, "You're running the company now." Stunned, Fred took over the business. It was 1947 and Fred started with seven employees, one store, and sales approaching $170,000 (one-third of which was coal, one-third lumber and one-third building supplies). The next year Fred's sales rose to $300,000, and the year after that to $1 million. By the 1970s Erb Lumber became the largest supplier of lumber in Michigan, and in 1972 the company went public. When Fred sold the business in 1993, he had a multi-state enterprise covering 45 locations with 1,300 employees and generating $280 million in sales (none of which was coal).
Family Values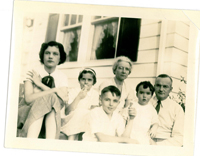 The story of Erb's success includes honest, hard-working immigrant great-grandparents from Germany and a tremendous spirit of entrepreneurship coupled with intelligence and discipline. The family had its share of ups and downs of the American Dream, but they never lost sight of their core values and ethics.
Fred lost his father when he was in the 8th grade. Through his father's death, Fred learned the depth of his mother's abilities as she kept her four children together by wisely managing the family assets. Grace Erb was keenly aware of the need for a male influence for her sons Fred and George, and decided to have them become boarders at Cranbrook, where they currently were attending as day students.
Fred Erb (1923-2013)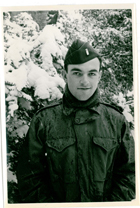 Cranbrook was a great experience for Fred. In addition to a good education, the school provided a well-rounded experience, from playing first chair trumpet to athletics such as football, wrestling and basketball.
After graduating in 1941, Fred went to Cornell University to study engineering. In 1942, he enrolled in summer school at the University of Michigan to be close to home since the US had become involved in World War II, and joined the Army Enlisted Reserve. Unable to transfer his summer credits to Cornell, he remained at U of M the next fall, and was called to active duty in 1943. When he returned from Okinawa, his life had changed. He returned to the U of M, but, knowing he wanted to be an entrepreneur so he could control his own destiny, he changed his major to business.
Fred and Barbara Erb
One of the most important events in Fred's life was his New Years Eve party in 1942. In Ann Arbor, as a student at the U of M and preparing to go into the army, he met Barbara Jean Morley. Immediately smitten by Barbara, he told a friend that evening, "I'm going to marry that girl."
Fred and Barbara dated until Fred left for Okinawa that June. For the next three and a half years Barbara worked for the headmaster at Cranbrook and wrote Fred a letter every day. When Fred returned in September 1946 he and Barbara married the next day. The day after the ceremony, Fred re-enrolled at the U of M. In just one year Fred completed the two–year business program with honors, receiving his Bachelor's of Business Administration degree, and headed to work at Erb Lumber.
As Fred's business grew, so did his and Barbara's family, with the births of their four children Rick, Wendy, Leslie, and John. Both Fred and Barbara believed having their family was the best thing that ever happened to them.
Fred died January 10, 2013, just before his 90th birthday, after living 12 years with Alzheimer's Disease.
Barbara Erb (1924-2013)
As a young mother, Barbara developed her interests in organic gardening, nutrition and recycling, well before most people were aware of these issues, and imbued these interests in her children from an early age. When the children were old enough to travel, she bought each a drip-dry outfit, packed them into a van, and drove east to places she always wanted to visit including Gettysburg, Niagara Falls, New York City and Washington D.C.
Barbara believed that travel broadened her children's perspective of life. When the children were in high school, she and Fred encouraged them to travel and study abroad the summer between their junior and senior year. Eventually all four children traveled to different countries: Rick to Finland, Wendy to Germany, Leslie to Sweden and John to Israel.
They also traveled around Detroit, never sheltered from the realities of the city, which made a strong impression on the Erb children. Though three have moved west, they each still feel a strong commitment to Detroit.
Barbara died ten months after Fred, on November 8, 2013, at age 89.
The Future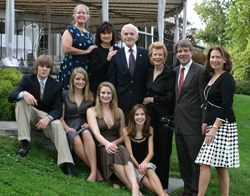 The Erb family now also includes four grandchildren: Mimi, Lark, J. Hugh and Elizabeth.
With the creation of the Erb Family Foundation, the family is continuing the legacy of Fred and Barbara while working toward a common goal – to effect systemic change by nurturing sustainable communities. The family believes that the key is working collaboratively and respectfully together to make wise, compassionate decisions to achieve meaningful and lasting change.